Often argued, seldom resolved, these are my opinions on "What should I do with my Spitfire?"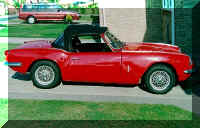 If you are interested in value, nostalgia or are just a keep-it-right junkie, then I'd say keep it original. This especially applies to the 'Early Spitfires' (1962-1970) as they have a less modern outlook and tend to look out of place with modern additions. A properly restored or original Spitfire really does look the part.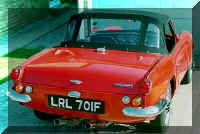 However if your car will be driven a lot, or want something that suits you and you intend to keep it for a long time, then go for it. I would try and keep it in the style of which they were intended though, otherwise you'll end up with a cross between something out of Batman and a mobile Halfords store. Furry dice and Carlos Fandango wide-wheels are not to everyone's liking.
My Mk3 has some modifications which, whilst not original, are quite subtle. For example, I've boosted the performance quite a bit by replacing the SU HS2 carbs with brand-new HS4's (and this needed the throttle linkeage from a 1500 Spitfire). I added K&N filters and a Triumphtune full sports exhaust with twin pipes. I'm hoping to put the TSSC 'Classic Bucket' seats in their too, as the originals have perished. I'll be using a wooden Moto-lita steering wheel and haven't yet decided on the final interior trim.
Tony Collings's Spitfire 1500 goes even further. He's used non-standard metallic paint and minilite alloys to personalise his car, together with performance improvements and I think the result is fabulous. The car looks simply stunning and yet it's still instantly recognisable as a Spitfire.
Tony's Spitfire 1500
Some people can go a bit too far, I've seen all kinds of Spit-rods and crude examples of slamming a GT6 engine into a Spit. Done properly, they're superb, but these bodge-jobs give our cars a bad name and are usually done to try and earn a fast buck or two. Incidentally it's usually the original cars which fetch the most money. Outside of the US, you rarely get back what you put in, as far as customization is concerned.
The upshot is, well it's upto YOU to decide what's best for you. Either style can work well and it's all a question of taste really. Then again, some people like jellied eels...